Whether you just desire to spruce up and make your home unique or trying to sell it, there many ways via which you can enhance its curb appeal. Curb appeal refers to the attractiveness of a commercial or residential property's exterior when looked from the streets. When selling a property, a nice curb appeal attracts more prospective buyers.
However, many people move into a home and live in it for years without changing its curb appeal. Nevertheless, there are minor changes that you can make on the curb appeal to personalize your property. Here are fantastic ideas on how to make your home look stunning by enhancing its curb appeal.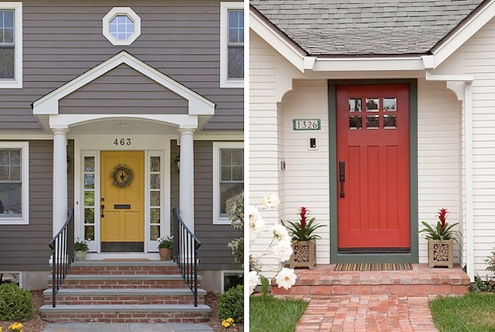 Repaint the Front Door
This is a simple way to enhance the curb appeal of your home because you just need paint and a brush. When done properly, painting the front door will boost the curb appeal of your home significantly. Essentially, many people see the front door first when they glance at a home. Therefore, personalize this door by painting it with your favorite color. Bright and bold colors make a home stand out. However, you can paint the front door with classic black if you prefer something more subtle.
Clear the Pathway
The pathway is the second most visible spot of your home. Rogue slabs and unattended grass patches look awful. However, you can work on these in different ways. For instance, you can lay down a natural looking turf, a nice pathway, or put down wooden platforms in stones. Wooden platforms look great in traditional homes and classic bungalows.
Update Windows
Windows provide a way for visitors to look into a home from the outside. As such, you should treat them the way you treat the front door. Keep windows clean. Repair and replace them when broken or outdated. Your house will look bad with dirty, rotten windows. They will ruin the mood of visitors or prospective buyers when they approach your home. So, bring your home to life by repairing damaged windows and cleaning them. Also consider repainting your windows.
Replace the Roof
To some homeowners, this sounds strange. However, changing the design or color of your roof can change how people perceive your home. If you are a homeowner, you need to personalize your house. The roof might seem immovable but this is not the case. In fact, you can try out different designs and colors to find out what works best for your home. When done properly and after careful thinking, roof replacement will be a great improvement that will enhance the curb appeal of your home. Roof replacement can be done by an experienced contractor like Medicine Hat Roofing. They replaced my mother in-law's roof a few months ago and did a fantastic job.
Add Life to Your Home
Regardless of the size of your patio or garden, you can add life and color to it. For instance, you can add bushes and plants to give your home a natural feel. Even if your space is tiny, consider planting small flowers or even hanging plants on the exterior of the front door. Essentially, work with sensible plants that won't grow uncontrollably. Well-maintained plants will capture the attention of your visitors and impress them instantly.
Repaint
If your home has discolored, flaking away, or peeling paint, consider repainting it. You can also paint your house with vibrant shades if the current paint is dull. This will give your home an impressive character. However, paint your house with a color that won't crash with that of the front door. Make sure that both the house color and the front door color work together.
These are simple tips for enhancing the curb appeal of a home yet they go a long way towards personalizing it. Curb appeal is very important to both visitors and potential buyers since they make up their mind quickly after seeing a home from the outside. Follow these tips to give your home a more impressive curb appeal.